Sonora High Remains Undefeated With Win Over Lodi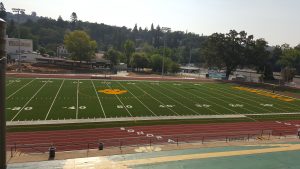 Sonora High School Stadium - Dunlavy Field

View Photos
Sonora, CA — The Sonora High Wildcats football team upped its record to 2-0 by defeating the Lodi Flames 62-15.
Everything seemed to go Sonora's way at Dunlavy Field. Kane Rodgers scored twice on short runs and Mason Dambacher added another in the first quarter. Josh Harris hooked up with 2 different receivers for scores, an 18 yard pass to Evan Bearden and a 44 yard touchdown pass to Gino Bergamaschi that hit him in stride. Harris continued the scoring fest by punching in two long runs over 30 yards in the second quarter.
The second half allowed for the Wildcats to put in their back up players and Sonora didn't break stride. Kellen Phillips and Zach Whitmer had scores in the 2nd half. The Wildcats defense held strong throughout the game with Lodi able to score two touchdowns in the second half after the game was well in hand. The Sonora defense also was able to recover five fumbles during the first half which allowed for amazing field position.
The Wildcats lead 48-0 at half time and the clock was running throughout the second half. Wildcats pick up the win with a final score of 62-15.
Summerville was victorious on Thursday night, defeating Mariposa 49-39. Last night Calaveras High defeated Escalon, 45-16 and it was Bret Harte over Riverbank 41-0. Oakdale defeated Crater 48-7.