Groveland Burglary Suspect Arrested After Shooting At Home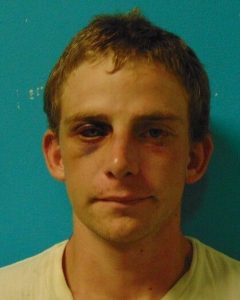 Todd Everett Anderson

View Photos
Groveland, CA — A man was arrested by Sheriff's deputies after shooting a gun on Ferretti Road, and the Sheriff's Office reports the man is also being investigated in connection to several recent Groveland burglaries.
Deputies contacted 22-year-old Todd Everett Anderson, a transient, yesterday after he shot at the home, and the birdshot hit a house and vehicle. The Sheriff's Office reports Anderson was out on bail from a similar case where he shot at a residence this past February. Anderson is also being investigated in connection to several Groveland burglaries. Detectives have recovered a pistol, two rifles and two shotguns that were taken in recent burglaries. An investigation into the various incidents is ongoing.
Anderson was booked into the Tuolumne County Jail for shooting at an inhabited dwelling, committing a felony while out on bail for a prior felony case, burglary and petty theft.