Groveland Man Arrested For Drugs, Felony Weapon Possession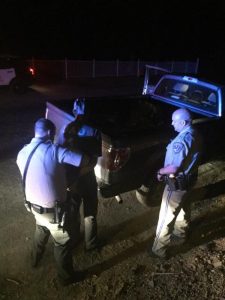 Joseph Calyton Vilmur Arrest, TCSO Onscene Photo

View Photos
Sonora, CA – A Groveland man learned late Tuesday night that, when it comes to criminal charges, possession of a billy club beats two bags of methamphetamine.
Tuolumne County Sheriff's Office spokesperson Sgt. Andrea Benson reports that a vehicle search was conducted in Jamestown with the help of the CHP on a 2009 Ford pickup for having a tarp hanging from its rear end, following a deputy's traffic stop shortly before 11 p.m. on Chicken Ranch Road near Jeanese Road.
Sgt. Benson states that the driver, Joseph Clayton Vilmur, 39, who had a small amount of marijuana on him for which he had a recommendation for, was found to also have a methamphetamine pipe, two baggies of meth and a wooden billy club in his truck. She notes that possession of the latter is a felony offense.
Arrested and booked into the county jail for misdemeanor possession of methamphetamine and drug paraphernalia, along with misdemeanor driving on a suspended license, Vilmur now additionally faces a felony charge for having the wooden weapon on him, which triggered a bail that was set at $20,000.