Mokelumne Fire In Alpine County Grows To 352 Acres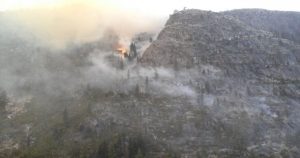 Mokelumne Fire

View Photos
Alpine County, CA — A fire in the Mokelumne Wilderness of the Stanislaus National Forest has grown 133 acres since yesterday, and it is up to 352 acres.
We reported previously that the fire was ignited by lightning in a very remote area on August 18.  It is being managed for ecological and resource benefit. The fire is 30% contained. A briefing report from the incident command team reads, "The fire burnt around a large granite face which accounts for a large portion of the 133 acre growth. Crews will continue to secure the western edge of the fire with assistance of the helicopters, maintaining MIST tactics, and maximizing the use of natural barriers."
There are 43 firefighters assigned to the incident, four hand crews and two helicopters. Full containment is anticipated by October 15th.