Tuolumne County Public School Enrollment Is Up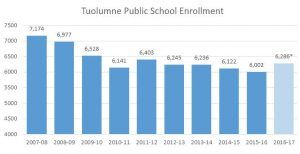 Tuolumne County School Enrollment Chart

View Photos
Sonora, CA — Tuolumne County Superintendent of Schools, Margie Bulkin, has some preliminary information on enrollment and positive things to say about how local students are doing on the California Assessment of Student Performance and Progress (CAASPP).
Bulkin says the unofficial county public school enrollment count this week was 6,286 students. The official count is reported to the state in October. "For several years our county's schools have experienced moderate declining enrollment from approximately 6,400 students countywide in 2011 down to 6,000 students in 2015," Bulkin says. This year's enrollment would be a 4.7 percent increase from last year but is down from ten school years ago by just over 14 percent.
The CAASPP is one way to measure student achievement and Bulkin reports Tuolumne County has made significant progress, similar to the state. State Superintendent of Public Instruction Tom Torlakson announced this week the percentage of students meeting or exceeding standards increasing at every grade and in every student group. Bulkin says, "I am encouraged by the progress being made in Tuolumne County as schools have worked to make significant changes to meet new standards for English language arts, math and literacy that accompany college and career readiness intended to develop students' core academic, technical and employability skills.  Adding to this approach is expanded access to career pathways and/or college level course work linked to certificates, associate degrees and or higher education opportunities at Columbia College."
For full comments and information about the new school year read Bulkin's full blog "Welcome Back To School" here.