Driver Flees DUI Checkpoint And Hits Vehicles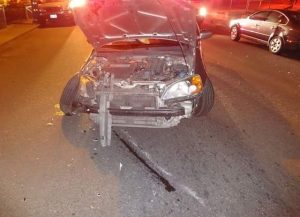 Crash on Stewart Street

View Photos
Sonora, CA — After fleeing from a DUI checkpoint on Mono Way, a Sonora teen caused major damage to a pair of vehicles.
The Sonora Police Department reports that a screening officer at the checkpoint ordered 18-year-old Crysta Butynski of Sonora to pull to the side of the road and stop. However, she instead accelerated in her 2003 Honda Accord and drove away. A short period later the police department was notified that two parked vehicles were hit on South Stewart Street. Officers responded and found Butynski and the Honda Civic nearby. Witnesses stated that she hit a parked vehicle, which then hit another vehicle, pushing the second one 10 ft. forward. All three vehicles sustained major damage. Butynski had a strong odor of alcohol and was arrested on a list of charges. She was transported to Sonora Regional Medical Center to treat non-life-threatening injuries.
The crash occurred Saturday at 12:59am.