Columbia Teen Booked On $500,000 Bail For Sexual Related Crimes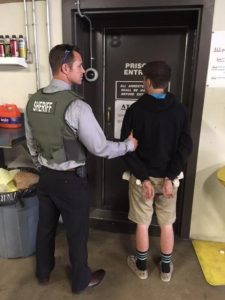 Zachary Kuhl Arrest

View Photos
Columbia, CA — Following a four-month investigation, a Columbia teen was arrested on a list of charges involving nine victims.
The Tuolumne County Sheriff's Office received two suspected child abuse reports in April involving the same alleged suspect, 18-year-old Zachary Kuhl. Search warrants were issued for Kuhl's electronics and at the travel trailer he had been staying. As a result, nine juvenile victims were potentially identified. Eight of those victims cooperated with the investigation, and stated they were coerced into allowing Kuhl to produce child pornography. The investigation showed that Kuhl had intercourse with two juveniles, one of which was three years younger than him.
Kuhl was booked into the Tuolumne County Jail for eight counts of possession, creation and distribution of child pornography, 13 counts of unlawful sexual intercourse with a minor 3+ years younger, unlawful sexual intercourse with a minor, 11 counts of burglary, six counts of contacting a minor with intent to commit sexual offense and arranging a meeting place with a minor for lewd purposes. Kuhl is being held on a $500,000 bail.