Senate Approves California Climate Change Law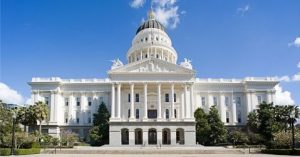 California State Capitol

View Photos
Sacramento, CA — California lawmakers have approved a decade extension of the state's landmark climate change law SB 197.
The bill passed the state Senate by a 25-13 vote Wednesday. It now heads to Governor Jerry Brown's desk, who is expected to sign it.
The move keeps alive the legal framework for the state's wide-ranging efforts from a tax on pollution to zero-emission vehicle mandates and restrictions on the carbon content of gasoline and diesel fuel. Support of the bill, Assembly Democratic leader Anthony Rendon remarked, "Assembly Bill 197 provides the mechanisms to make sure the goals we set in SB 32 are reached. Greater legislative oversight, as well as agency accountability and data transparency from the Air Resources Board will only make our climate change efforts benefit all Californians."
The bill sets a new goal to reduce emissions 40 percent below 1990 levels by 2030. Most Republicans and other critics argue the law has already led to higher energy prices.