Removing Hazardous Trees Along Lyons Bald Mountain Road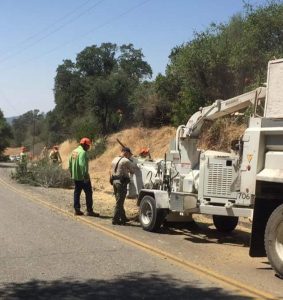 Dead Tree Removal On Lyons Bald Mountain Road

View Photos
Sonora, CA — Work is well underway on a fuel reduction project in Sonora.
We reported previously that the $50,000 Lyons Bald Mountain Road Fire Hazard Fuel Reduction Project is being funded by PG&E and is being overseen by the Highway 108 Fire Safe Council. Much of the labor intensive work is being carried out by Tuolumne County Jail inmate crews.
You will experience periodic traffic delays in the work zone over the next several weeks. Work is being done all along Lyons Bald Mountain Road up to the PG&E Powerhouse station. Activities started on August 15 and it is expected to take up to six weeks to complete. Crews are on scene Monday through Friday from around 7am-4pm. Use caution when driving in the area and allow yourself extra time.