25-Acre Vegetation Fire In Stanislaus National Forest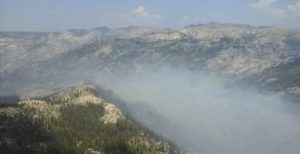 Fire Burning In Mokelumne River Canyon

View Photos
Alpine County, CA — There is a lightning caused vegetation fire burning in a very remote area of the Stanislaus National Forest in Alpine County.
The fire is situated in the Mokelumne River Canyon north of Frog Lake. It is near the border of the El Dorado National Forest. You may experience smoke and reduced visibility if traveling along Highway 4. The Forest Service is currently managing the fire and not trying to actively extinguish it.
Forest Service Spokesperson Clare Long says, "There hasn't been fire in that area since 1939 and this is a fire adapted community, so it needs fire to come through to keep it healthy and to maintain a diversity and future. So, we are taking advantage of this naturally ignited fire, and we are managing it. We are putting control lines around it where we possibly can, and then trying to let the fire go in and clear out some of the older debris so that it will allow new growth to come up."
Long notes that it is a slow moving fire situated in a steep canyon surrounded by rugged granite cliffs and outcroppings. The fire ignited over the weekend.