Law Enforcement Urges Safety As Students Head Back To Class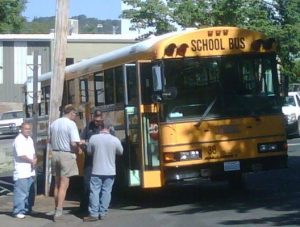 Sonora School Bus

View Photos
Sonora, CA — A majority of the students in the Mother Lode are heading back to class this week, including all public schools in Tuolumne County.
Columbia and Soulsbyville Elementary, and Sonora Union High School will begin classes on Tuesday, August 23rd.
School then starts the following day, Wednesday at Belleview, Curtis Creek, Jamestown, Sonora Elementary, Summerville Union High School, Summerville Elementary, Twain Harte, as well as Foothill Leadership Academy, Gold Rush Charter School, and Mother Lode Christian. Wednesday is also the first day for all the schools in the Big Oak Flat-Groveland Unified School District.
Fall classes begin at Columbia College on August 29th and Sierra Waldorf School will start on September 7th.
School began the week of July 25 for the Calaveras Unified School District and August 17 at Bret Harte.
With kids back in class, CHP Officer Nick Norton says it is important to slow down and use extra caution near schools. He says, "You really have to be careful around the school buses, and when the children are walking to school. When those red lights come on the school bus, whatever direction your traveling, you need to stop. It is for the safety of the kids, but also the bus driver that may have to come out and ensure that the students make it safely across the street."
The Tuolumne County Sheriff's Office has also released the following information below to keep in mind:
*If your child will be riding a bike to school make sure they are wearing a properly fitted helmet and ride on the right side of the road.
*If your child will be walking it is best to walk in a group of children.
*Always walk on the sidewalk or in a designated walkway and cross streets at corners where there are traffic signals and/or designated crosswalks.
*Look both ways for oncoming traffic before crossing any street and never run out into the street or cross between parked cars.
*Choose a safe route for your child. Have them avoid shortcuts and alleys.
*Make sure your child knows their information, your phone numbers, address and an emergency number.
*If your child has to be home alone after school, make sure they lock all doors and do not open them to strangers. Have them check in with you periodically.
Safety tips for drop off and pick up at school.
*Slow down near bus stops and watch closely for kids.
*Red flashing lights and an extended stop arm means the school bus has stopped to load or unload children. Please stop and wait.
*Always stop for a crossing guard holding up a stop sign.
*Do not block the crosswalk.
*In a school zone, stop and yield to pedestrians crossing in the crosswalk or intersection.
*Never pass a vehicle stopped for pedestrians.
*Obey the traffic laws, signals and speed limits.