Yosemite Visitors Celebrate100 For Free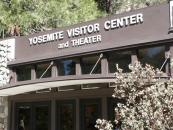 Yosemite Valley Visitor Center and Theater

View Photos
Yosemite, CA — In honor of the Park Service's Centennial, entrance fees will be waived at Yosemite National Park.
The celebration starts on Thursday, August 25, which is the100th Birthday of the U.S. National Park Service (NPS). On that date back in 1916, President Woodrow Wilson signed the NPS Organic Act establishing the agency under the U.S. Department of the Interior. Visitors will continue to be allowed to walk through the park gates for free until Sunday, August 28.
"We are very excited about the NPS Centennial and the special programs taking place here in Yosemite in honor of the founding of the National Park Service," stated Don Neubacher, Park Superintendent. "We encourage all visitors to find your park and to help celebrate this historic milestone."
Park officials note there will be special centennial events, among them a hike to the Top of Lembert Dome, a program on Stephen T. Mather and the Founding of the National Park Service, Horse-Drawn Stage Rides, and Tours of Pioneer Yosemite History Center.
All other fees for camping, lodging and other activities will be charged.