Final Deadline For Butte Fire Hazard Tree Removal on Private Land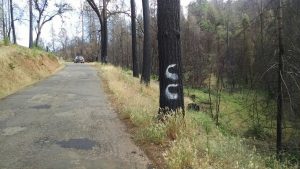 Calaveras County trees marked for removal

View Photos
San Andreas, CA – Friday, August 19 is the last day for property owners to submit Right of Entry (ROE) Permits to allow the clearing of dead trees from the Butte Fire burn scar at no cost to the land owner.
As previously reported here, the ROE permission allows an arborist and crews onto the property to evaluate trees that may be dead or dying and potentially cause a safety hazard to county roadways and in turn motorists traveling on them.
The county notes that the cost to cut down a tree is anywhere from $1,000 to $1,500, which can add up quickly. Under the FEMA program, there is no expense for the property owner but County spokesperson Sharon Torrence stresses it could be costly if trees are not treated, "If those trees come down and hurt or kill someone it will not only be tragic but the land owner will be liable." She adds that the dead trees can become a "Nuisance Abatement" issue, which would legally allow the county to fall the trees at the owner's expense and will become part of their tax bill.
Work to cut down hazardous trees on land were entry has already been permitted will begin in the next couple of weeks.