Drug Bust In Vacant Jamestown Residence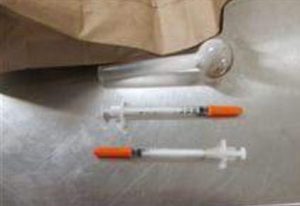 Drugs found on suspects

View Photos
Jamestown, CA — A watchful neighbor spied a man and woman inside an unoccupied apartment in Jamestown and called authorities.
The incident happened Wednesday around 5:18 p.m. on Main Street. The resident had spotted the suspicious couple going into the residence and alerted the Tuolumne County Sheriff's Department.
As the two were exiting the vacant apartment a patrol car pulled up. The deputy questioned the 21-year-old Shantel France of Jamestown and 23-year-old Nicholas Cicero of Sonora. A records check of the pair found a misdemeanor warrant for narcotic related charges on France.  A search of her person netted a methamphetamine smoking pipe and Cicero also had syringes on him.
The two were taken into custody and booked into the Tuolumne County Jail but later released on promises to appear for a future court date.
A sweep of the home found no other people inside and there was no forced entry into the property.