Illegal Pot Grow Sparked Rocky Fire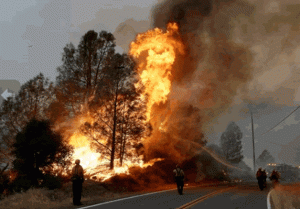 2015 Rocky Fire in Lake County

View Photos
Sacramento, CA – State fire investigators released their findings Wednesday into what ignited the Rocky Fire that burned down 43 homes and at its height threatened 7,000 structures.
On Wednesday, California Department of Forestry and Fire Protection spokeswoman Janet Upton stated that a faulty water heater near a site where about 100 marijuana plants were being grown sparked the blaze.
The fire began on July 29, 2015 and burned about 108 square miles in Lake, Yolo and Colusa counties. An additional 53 outbuildings were also burned before the flames were contained on August 14.
Last year on August 19 Cal Fire determined that the fire had been caused by a faulty gas-powered water heater but now state investigators have linked it to the illegal marijuana grow.