Public Memorial Planned For Battalion Chief Spear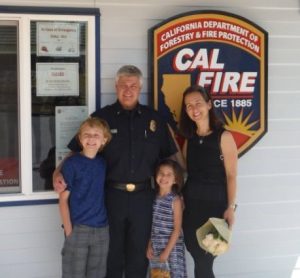 CAL Fire Chief Mike Spear and Family

View Photos
Sonora, CA — The Tuolumne County Board of Supervisors observed a moment of silence this morning for late CAL Fire Battalion Chief Mike Spear.
Just prior, Board Chair Karl Rodefer noted, "Chief Spear was a key part of our county fire program, and especially in training our volunteers."
It is just one of the many items Chief Spear will be fondly remembered for throughout his 46 years. Due to an anticipated large crowd, and a notable firefighting presence, a public memorial is scheduled for this Saturday at 11am at the Oak Pavilion at Columbia College. He passed away this past Friday morning at his Sonora home. An autopsy was performed and the results are still pending.
Chief Spear was born and raised in Southern California and graduated from Capistrano High School in 1988. From a young age he knew he wanted to be a firefighter so he enrolled at Columbia College and graduated with an Associates Degree in Fire Technology. He began his career with CAL Fire as a firefighter in 1991. He later spent a period working as a Fire Safety Specialist for Foster Farms, where he met the love of his life, and future wife, Kimberly. He then returned to CAL Fire in 1998. He worked his way up the ranks serving as a Fire Apparatus Engineer, a Crew Captain at the Vallecito and Baseline Conservation camps, and eventually earning the distinction of Battalion Chief of Training and Safety. He was a key player in the command center during the 2013 Rim Fire, and also recently helped the county fire department secure a significant grant.
His wife Kimberly says in addition to being a very gifted firefighter, he also spent many hours of his free time volunteering at their children's school, whether it be via field trips or projects. He was also involved with the Tuolumne County Childcare Council. She reflects fondly, "He would have 10 projects going at a time, and he would get them all done."
She notes he was not the type of person that preferred spending his spare time "with his buddies," and always wanted to be at home with his family. They had a great road trip this past spring in Utah both skiing and visiting family members. He will also be remembered for his quick wit and outgoing personality.
Chief Spear is also survived by his son William, daughter Molly, his parents, a sister and parents in-law.
In lieu of flowers his family asks that donations be made to:
TCFD Fire Muster Association,
18440 Striker Ct.,
Sonora, CA  95370
Or the
Ken Onstadt Benevolent Fund
785 Mountain Ranch Road
San Andreas, CA  95249