Update: Fire And Power Outage In Chinese Camp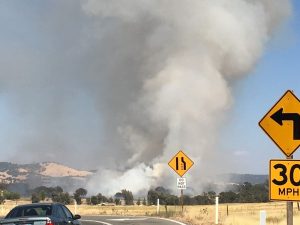 Chinese Camp Fire

View Photos
Update at 4:38pm: Firefighters have successfully contained a 10-12 acre vegetation fire in Chinese Camp. The fire was ignited by a van that hit a power pole. There were no injuries from the crash. The fire ignited in the vicinity of Chinese Camp SPI mill. No structures were damaged. Fire crews will remain on seen mopping up the incident. Around 124 PG&E customers are without electricity and full restoration should come by 7:15pm.
A special thanks to community news partners Dave Patton and Cathy Stone-Carlson for e-mailing photos. Pictures can be sent to news@clarkebroadcasting.com.
Original story posted at 4:15pm: Chinese Camp, CA — Air and ground resources are working to extinguish a vegetation fire in Chinese Camp.
The CHP reports that a van hit a power pole and it has resulted in a vegetation fire in a grass field. It is near the area of Sims Road near Highway 120. A stretch of Sims Road is currently closed. PG&E reports that 124 customers in the area are without electricity. Full restoration is not anticipated until around 7:15pm. No injuries were reported from the vehicle accident. It is in the vicinity of the Sierra Pacific Industries Chinese Camp mill.