Angels Camp Man Arrested For Battery And Threats To Officer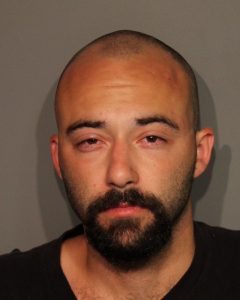 Shaun Nicholas Johnson

View Photos
Angels Camp, CA — A man was arrested in the 1000 block of Tuolumne Avenue in Angels Camp on several charges.
The Police Department responded recently at 9:15pm because 28-year-old Shaun Nicholas Johnson was allegedly walking around with a baseball bat and challenging people to fight. The Police Department responded and found the Angels Camp man hiding in a carport. As officers approached Johnson he threw aside the baseball bat.
Johnson was detained and during the investigation he allegedly made threats to murder the officer's children and family. At one point when he was asked to step out of the police vehicle, Johnson allegedly spit at the officer several times. He also made references to the "Red and White" taking care of the officers. The PD reports that "Red and White" is a common street reference  to the Hells Angels motorcycle gang.
Johnson was charged with resisting an officer, battery on an officer, obstructing an officer and public intoxication.
The Police Department reports Johnson does not live in the area where he was located.