City Will Vote On Engineering Contract For Mono-Greenley Widening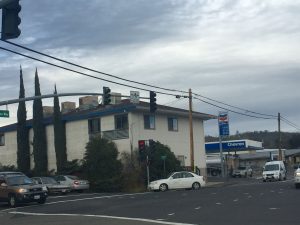 Corner Gas at the intersection of Greenley Road and Mono Way

View Photos
Sonora, CA — -The Sonora City Council will vote whether to approve an engineering agreement with a firm to design the work that needs to be done to widen the Mono Way and Greenley Road intersection.
At tonight's meeting the Council will vote whether to approve a $91,839 contract with O'dell Engineering. Meeting documents prepared by City Administrator Tim Miller note that the goal is to finish the design work by the end of the year and bid the project at the beginning of 2017. Work would then begin in late winter or early spring of 2017…with completion by early next summer.
The regular session portion of the meeting starts at 5pm at City Hall. Prior to that, at 4pm, the council will meet in closed session to talk about continued property negotiations regarding purchasing the needed Corner Gas property at the intersection. Traffic is anticipated to increase at the Mono-Greenley intersection next year. It is adjacent to where the ongoing construction is taking place for Sonora Regional Medical Center's new Cancer Center.