$737-Million Transportation Plan For Tuolumne County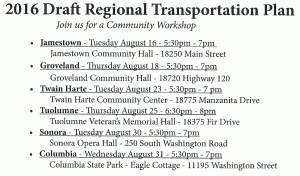 Draft Regional Transportation Plan Meetings

View Photos
Sonora, CA — Transportation projects desired over the next 25 years are laid out in a new $737-million plan put together by the Tuolumne County Transportation Council.
One of the more ambitious projects includes phase 1 of a long-talked-about North-South Connector that would extend Greenley Road from Lyons Street to Highway 49. Some of the other key projects in the draft plan include widening Highway 108/49 to five lanes near Jamestown, making improvements to sidewalks along highways in Sonora, Jamestown and Groveland, completing a Highway 108 and Peaceful Oak Road (Standard) interchange, widening the Greenley Road and Mono Way intersection and expanding transit services and facilities. It also includes funding that will be required for regular maintenance and operations.
It takes into account projects that will be funded by various different entities, whether it be Caltrans, the City of Sonora, Tuolumne County, etc. You can find the entire draft document by clicking here.
Some upcoming meetings have been scheduled so that the community can find out more information, and provide feedback. Dates and times are included in the image box located in the upper left hand corner.