Update: Driver ID'd In Crash That Caused Pine Mountain Lake Power Outage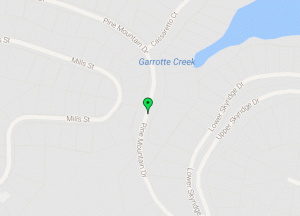 PML Power Outage

View Photos
Update at 6 p.m.: The CHP reports the wreck happened around 11:45 p.m. Thursday on Pine Mountain Drive when William Wrighton, 20, from Seaside failed to negotiate a curve. The 1996 Ford Explorer he was driving eastbound went off the roadway sheared a large power pole in three places bringing down live power lines. The vehicle flew down a 30 foot embankment and smashed into a tree.  A handful of PG&E customers in the area were without power until around 1:30 p.m. Friday. Wrighton complained of only minor aches and pains. He was cited for driving too fast for conditions, according to the CHP.
Update at 9:15am: PG&E now reports that full restoration is anticipated by 2pm. The CHP notes that Pine Mountain Drive, near the crash site, is expected to remain closed until that time.
Original story posted at 6:40am: Groveland, CA — A vehicle slammed into a power pole late last night and a handful of PG&E customers are without electricity this morning.
The CHP reports that crash occurred just before midnight in the 19800 block of Pine Mountain Drive. The vehicle hit a power pole and then traveled 30 ft. down an embankment. No injuries were reported, but the power line was sheared, and five PG&E customers nearby are without power. Full restoration is anticipated by noon today. The road is temporarily closed near the accident site, so you will want to avoid the area.