Faulty Wiring Sparked State's Third Most Destructive Blaze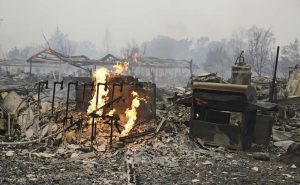 Destruction From Valley Fire In Middletown

View Photos
Lake County, CA — Topping the Butte Fire, which was the seventh most destructive, the Valley Fire killed four people and destroyed nearly 2,000 structures and forced thousands of evacuations.
The California Department of Forestry and Fire Protection released a detailed report Wednesday pointing to a hot tub's faulty electrical wiring as the cause of the 120-square-mile blaze.
As previously reported, the Valley Fire burned through a large portion of rural Lake County and parts of Napa County about 90 miles north of San Francisco in September 2015. Investigators concluded that the hot tub wiring wasn't installed in accordance with building codes. The Lake County District Attorney's office is considering whether to file criminal charges.
The flames scorched more than 76,000 acres and also forced the evacuation of thousands of residents and businesses. Insurance company Aon Benfield estimated the cost of the Valley Fire to around $1.5-billion and the Butte Fire at $450,000 for a total of $2-billion.
View the full report here.