New Deputy Dogs Join Sheriff's Office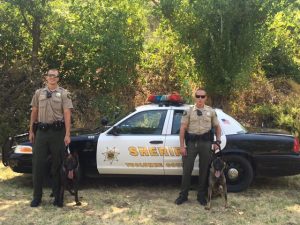 Deputy Poel with Beau and Dep. Oliver with Zeus

View Photos
Sonora, CA — The Tuolumne County Sheriff's Office has added two new K9 deputies.
18-month-old Beau and 13-month-old Zeus have recently joined the staff. They are both German Shepherds and come from Hungary. They join the existing dogs Justice and Hans.
Sheriff's Office Spokesperson, Sgt. Andrea Benson, says, "They are obviously great when doing building searches and help the deputy as far as safety. We've used them a lot for narcotics detection. There are a lot of different situations and cases where the canines are able to help with."
Funding for the dogs, and equipment needed for their care and maintenance, come from community donations. Notably monthly donations from the Haugh Family allowed for the purchase of Zeus and local business Dusty's Den provides a donation by providing all of the dog food and grooming. For information on donating to the K9 program you can call the Sheriff's Office 533-5855.
The teams will begin an eight-week basic skills training course, along with their handlers, to familiarize them and create a bond.  The teams are trained on things like obedience and narcotics detection.