Tuolumne County Seeks Help During Tree Mortality Emergency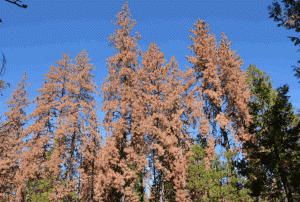 Tree Mortality In Sierra Nevada

View Photos
Sonora, CA — Volunteers are being sought to disperse information about resources available to fight high tree mortality.
We reported previously that a Tuolumne County tree mortality information phone line is up and running at 209-533-6394. The local Radio Amateur Civil Emergency Service (RACES) volunteers had been answering the phone lines, but as the emergency is continuing over the long-term, it became clear that it was too much for them to handle alone. More volunteers are being actively sought.
A training workshop will take place this Friday, August 12 at 10am at the EOC building at 18440 Striker Court in Sonora. County OES Coordinator Tracie Riggs says, "What we are hearing constantly from individuals is that they want to know how they can help. They know this is a catastrophic issue that our community is facing. This is a way people can help other members of the community by volunteering to help a few hours a week and answer questions from people who don't know what to do."
Training will be given to the volunteers and pamphlets will be provided with answers to a list of frequently asked questions.
For more information on volunteering, you can call the Tuolumne County Administration Office at 533-5511.