Celebrating The Local Filming Of Back To The Future 3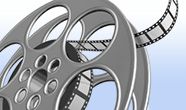 Click Here For Movie Times

View Photos
In 1990, the major motion picture "Back To The Future 3" was released into the national theaters. What stands out locally is that it was filmed in Tuolumne County. This Saturday night, it will be celebrated and shown in downtown Sonora.
Laurie Lehmann, Chairperson of the 2nd Saturday Art Night's 'After 8' event and volunteer Sarah Rogers Nesper were both Wednesday's KVML "Newsmaker of the Day".
Before the outdoor movie begins this Saturday night, there will be music performed by musicians who performed in the movie and there will also be a few behind-the-scenes stories told by those who worked on the set.
The "Hill Valley Drifters" will perform and they were the back up band for ZZ Top in the movie.
The public is invited to bring their low back chairs and a donation of $10 per person or $20 for a family. The movie will start as soon as the sun goes down.
So where will this outdoor movie take place in downtown Sonora? Just behind the ReMax Gold Building at 207 South Washington.
The family event will feature pizza, popcorn, craft beer, wine and candy.
All proceeds go to the Mountain Performers Fund that supports local artists that participate for tips at 2nd Saturday Art Night each month all year long.
2nd Saturday Art Night is presented by the Sonora Chamber of Commerce. This Saturday (August 13th) will be the 72nd Art night. The hours are from 5 PM through 8 PM.
Art Night began in 2010 with six art galleries and about 150 people. Over the past 72 months, the amount of participating merchants has grown and the crowds have grown to an estimated 800 to 1,000 people. 2nd Saturday Art Night also gives merchants in downtown Sonora a chance to showcase their stores, often with special sales or incentives to come inside.
Musicians perform mostly free of charge. Tip jars are available for appreciative audiences. The musicians, of every genre of music, can be found in clothing stores, art galleries, restaurants and outside on the sidewalks of downtown Sonora.
For more information on Sonora 2nd Saturday ART NIGHT, visit www.2ndsaturdayartnight.org or call (209) 694-4405.
The "Newsmaker of the Day" is heard every weekday morning on AM 1450 and FM 102.7 KVML at 6:45, 7:45 and 8:45 AM.