Sonora Man Arrested For DUI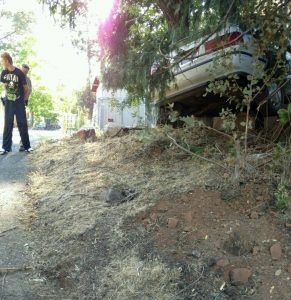 Sawmilll Flat Road and Parrotts Ferry Road DUI crash

View Photos
Columbia, CA – The CHP reports, during the busy evening commute on Monday, a man failed to stop at an intersection and sailed across a major roadway, went up a driveway and ran in to a large tree.
The accident happened around 5:15 p.m. on Sawmill Flat Road at the intersection of Parrotts Ferry Road. The CHP reports 32-year-old Cody Fenton of Sonora was driving westbound at a high rate of speed in a 1993 Honda Accord and blew through the stop sign. The car then sailed across Parrotts Ferry Road onto a private driveway. The car then collided with a wooden address post and some cement blocks before it smashed head-on into a huge tree.
Fenton suffered minor injuries in the collision. Once on scene, deputies suspected Fenton may have been driving while drunk. He was subsequently arrested for driving under the influence of alcohol.
Fenton's vehicle sustained major damage to the front of the car. The CHP had no estimate of the cost of repairing the property damage.