Search For Missing Woman Near Bear Valley Enters Second Week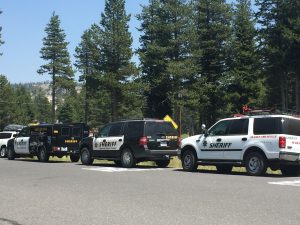 Search Underway In Bear Valley

View Photos
Sonora, CA — An active search continues near Lake Alpine for a camper that was last seen one week ago today.
Rosalyn Saxenmeier of San Mateo County walked away from the Silver Valley Campground at around 2pm on July 28. Law enforcement officials say she suffers from a medical condition that can make her become disoriented.
Teams have searched approximately 60 square miles, as of this morning. Alpine County Sheriff's Deputy Denver Stoner, says, "She is still missing, but we are still searching 100-percent. We have multiple teams out currently, approximately 30 people."
Officials did recently discover some potential clues near Rock Lake, approximately 4 miles from the campground of which she was last seen. Deputy Stoner says there were some footprints that were similar to Saxenmeier's description and officials think it could be a match.
14 different agencies have assisted over the past week, and Deputy Stoner says the department is "very grateful" for all the help it has received. He notes that each day the National Guard has sent a military style helicopter.
There have also been about 10 trained dogs that have been searching the area. Some are trained for the water and others for trails.
Anyone with information on Saxenmeier's whereabouts should contact the Alpine County Sheriff's Office at 209-753-2232.