As Savings Wane State Board Warns It Is Retaining Water Scrutiny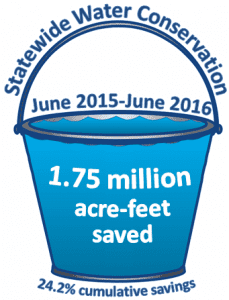 Statewide conservation bucket, June 2016

View Photos
Sacramento, CA – In the wake of a dip in statewide water conservation state officials are messaging that they will be reviewing suppliers' self-certified numbers with an eagle eye.
According to figures released today for the month of June, statewide water conservation came in at 21.5 percent, down six percent from the same month a year ago. As it shared its latest findings, the State Water Resources Control Board also indicated that it will be scrutinizing dramatic increases in water usage and reviewing "stress tests" to ensure that water supply reliability claims from suppliers are complete and accurate.
In spite of the June dip over the past 13 months Californians have squeezed enough water savings to provide 8.8 million people – nearly 23 percent of the state's population – with a year's worth of water. Locally, the Groveland Community Services District (GCSD) reported savings of 28.1 percent in June compared to June in the benchmark of 2013; Tuolumne Utilities District (TUD), came in at 21.7 percent; Calaveras County Water District (CCWD), showed 21.5 percent.
Commenting on the recently enacted self-reporting process, State Water Board Chair Felicia Marcus says, "Californians have continued to conserve without top down mandates, but the question is whether we can save enough and keep it up for the long haul. While last winter's rains allowed us to ease state mandated conservation that did not mean the drought was over or that local conservation efforts should stop — and we're looking carefully at the data to see what's happening where, and why."
Over 92 percent of urban water suppliers reporting to the state board are now submitting self-certifications. In its monthly presentation, board staff further clarified a need for well-documented analysis and continued assessment to ensure conservation compliance. As part of Gov. Jerry Brown's latest Executive Order issued in May, the board has been directed to focus on wise water use targets; eliminating water waste; improving drought resiliency and preparedness and agricultural water management.
Staff, still reviewing suppliers' self-certifications, indicates it will continue to provide updates and follow up as needed with individual suppliers. Next steps also include beginning work on permanent water waste prohibitions.