Serving Up Ice Cream, Hotdogs, Crime Prevention Tips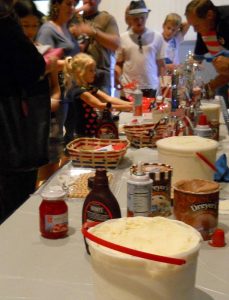 Sonora Police, Serving Up Ice Cream During National Night Out 2015

View Photos
Sonora, CA — Across the country — and the Mother Lode — law enforcement officials and other first responders invite the public to National Night Out events.
According to Sonora Police Chief Mark Stinson, tonight marks the 33rd anniversary of this community outreach effort. As he puts it, "It is held in all 50 states…for all citizens to come together with law enforcement and talk about ways they can better prepare themselves and fight crime — and also how to protect against some of the criminal elements that are out there these days."
While other jurisdictions may favor cookouts, Chief Stinson says his department prefers to dish out ice cream with their resource tips as they hobnob with local residents and also hear them share their perspectives. Discussing the latest and common-sense ways to secure one's residence remains a popular topic. He also emphasizes that, these days, another hot button subject — how to become more alert about personal finances — will help avoid citizens from inadvertently being tapped by some criminal element, either online or in person. The chief points to a series of Sonora Police Facebook posts recently created, alerting folks to the dangers of a whole new array of evolving scams being perpetrated through various means.
Local National Night Out Event Details
This evening's Sonora Police-hosted event will be held from 6 to 8 p.m. at Sonora Opera Hall (250 S. Washington St.). "Come on down…after our presentation, myself and other individuals from the police department will be serving up ice cream. We can serve up a sundae, a banana split – no matter what – we will be happy to serve you," Chief Stinson says cheerily, confiding a preference for the frozen flavor concoction, Rocky Road.
Tuolumne County Sheriff's Department is holding a somewhat similar event from 5 to 8 p.m. at Indigeny Reserve (14679 Summers Lane) in Sonora. Sheriff's officials are promoting it as a way to promote and reinforce law enforcement-community partnerships and neighborhood camaraderie to make local neighborhoods safer, better places to live as well as to increase awareness about law enforcement programs in the community, such as town watch, neighborhood watch and other anti-crime efforts.
Too, in Calaveras County, the Calaveras Consolidated Fire Support Team will stage an interagency program where Calaveras Sheriff Rick DiBasilio and other officials from the county's first responder groups will be available for the public to meet and talk with at the Terrace Plaza (1906 Vista Del Lago Drive) in Valley Springs from 6 to 9:30 p.m. Along with speakers the event will also feature games for the kids and free hotdogs.