Kennedy Details Plans For Sonora Entertainment Venue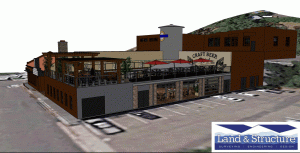 Planned Sonora Entertainment Venue

View Photos
Sonora, CA — Construction is anticipated to begin this fall on a project that includes a beer and wine garden and expanded opportunities for live entertainment.
We reported last month, after much city review, the planning commission approved initial plans for the renovation of the property at 198 S. Green Street. Developer Doug Kennedy, who also owns the Bourbon Barrel next door, says construction on the new entertainment venue should begin this coming October and last for approximately six months. A grand opening would then come in the spring of 2017.
Kennedy says, "Our plans for expansion include a beer garden and a wine facility, which will have outdoor seating where  people can sit outside and drink beer, and drink wine, and have good food. We're also doing an expansion for the downtown theater where Stage 3 is located….just to open that up and offer a downtown theater for music, plays, comedy and wide variety of entertainment in downtown Sonora."
Kennedy says Stage 3 will be moved to a new location on the property, and the theater group is planning to offer a full season of plays during the 2017 season. He calls Stage 3 a "great partner." When the theater area is not being utilized…other entertainment will be provided. Kennedy adds, "We are looking to bring in national acts. Our capacity will be somewhere over 500 for the entire facility. We'd like to get a comedy circuit going and also look at tribute bands and other local bands we can bring in."
Kennedy has a background in the industry as he helped launch the summer concert series at Ironstone Vineyards.
He adds, "I moved up here because I love the small town look… and the feel of the hometown community up here…and it was missing some of the entertainment factors. I got involved about 15 years ago with the Ironstone concert series, and I just looked at Sonora and said we need something like that on this side of the river. After a number of years of looking at various downtown places and buildings we put the Bourbon Barrel into the facility…and we thought the expansion would make a lot of sense."
Kennedy adds that the beer and wine garden area will be open to all ages up until 8pm and will be 21 and over during the later hours. The venue will be dog friendly. There will also be an onsite retail store. Some of the final plans are pending city approval this coming September. The work is scheduled to be carried out by Robert Boyer Construction.