Jamestown Man Arrested After Chase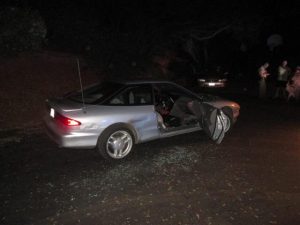 End of Chase at Our Lane in Sonora

View Photos
Sonora, CA — An attempted traffic stop sparked the pursuit, which ended in a Sonora driveway.
Tuolumne County Sheriff's officials report that Wednesday night around 11:43 p.m. a deputy tried to pull over a Ford Probe for erratic driving at the intersection of Old Wards Ferry and Tres Casas roads. The driver 45-year-old Troy Spirk took off along Old Wards Ferry Road, according to sheriff's officials, who say the vehicle crossed over the double yellow lines and blew past stop signs. The chase ended in the driveway of a home on Our Lane off Blue Bell Road West in Sonora. Sheriff's officials report deputies had to break out a window to get Spirk out of the vehicle as he refused orders to exit the car.
Once out of the vehicle, Spirk was arrested and charged with felony evasion in a vehicle with disregard for public safety, misdemeanor resisting arrest, and a felony weapons warrant. He was booked into the Tuolumne County Jail and will remain in custody without bail.