Update: Multiple Fatalities From Columbia Plane Crash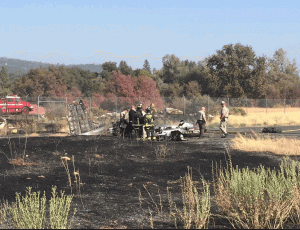 Plane Crash At Columbia Airport

View Photos
Update at 6:20pm: Tuolumne County Sheriff's Office Spokesperson Sgt. Andrea Benson reports four people have died from this afternoon's plane crash in Columbia. The names of the individuals, and where the plane was arriving from, is not currently available. The Coroner will need to notify next of kin family members before any identities are released.
The plane was reportedly coming in from the north and tried to land on the runway. It veered off into some vegetation in a field and the plane caught on fire. It also burned a nearby vehicle. The National Transportation Safety Board will arrive from Colorado tomorrow morning to take over the investigation.
Update at 6:08pm: A CAL Fire spokesperson confirms that the plane involved in today's crash at Columbia Airport was a private plane and not a fire plane. The Sheriff's Office is the lead agency investigating the incident and plans to release more information soon.
Update at 5:45pm: The Tuolumne County Sheriff's Office reports that the flames have been extinguished from the plane crash that occurred at Columbia Airport at 4:45pm this afternoon. No information has been made available at this time regarding injuries or the exact type of plane involved. We will pass along more information when it becomes available.
Original story posted at 5pm: Columbia, CA — Law enforcement officials are arriving on the scene of a plane crash at the Columbia Airport.
At 4:45pm the Tuolumne County Sheriff's Office receive a phone call that a plane had crashed and it was fully engulfed in flames. The fire has also spread to some nearby vegetation. As you can see in one of the photos, heavy smoke is visible near Columbia Airport.