Introducing The Mark Twain Wild West Fest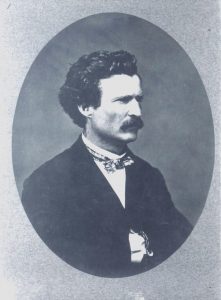 Mark Twain, 1865 portrait, a rare image

View Photos
The Mark Twain Wild West Fest has been announced for Saturday, October 15, 2016, from 10 am to 9 pm, on Main Street in historic downtown Angels Camp. The Fest promises to be a living interpretation and celebration of the 19th Century Wild West Gold Rush-era of the Sierra Nevada Mother Lode.
Christopher Buttner, Mark Twain Wild West Fest Marketing Director, was Friday's KVML "Newsmaker of the Day".
Featured are three stages of non-stop music, comedy and entertainment; roving street performers, magicians, jugglers, musicians, honky-tonk piano players and dance hall girls; beer, wine and food; gun-slinging cowboys and outlaws and shoot-out reenactments, as well as villains and damsels in distress; gold miners, their encampment and gold panning demonstrations; a flapjack breakfast; over 80 street vendors of all descriptions including arts and crafts, and a custom car show. The day is capped by a 4-hour evening live music and comedy concert and dancing under the stars in Utica Park. Admission and parking are FREE all day.
In addition, historical impersonators and re-enactors from great literary figures, entertainers and iconic personalities who made the American West great will be in attendance, including Mark Twain himself. Entertainment will also feature a children's storytelling workshop with Mark Twain, a Liar's Contest for adults, and other activities for adults and children of all ages.
This afternoon and evening will be launch of ticket sales for this year's annual raffle where the grand prize winner will receive an authentic 4.68-ounce Gold Nugget valued at approximately $6,000.00. The winner will be announced on Saturday, October 15, 2016, during The Mark Twain Wild West Fest, at 4 pm, on Main Street in historic downtown Angels Camp.
Buy tickets at $10 each or 12 for $100 at the Mark Twain Wild West Fest/Angels Camp Business Association tent at the Angels Camp Farmer's Market in Utica Park where an exact replica of the Gold Nugget will be on display. Raffle tickets may also be purchased online at www.marktwainwildwestfest.com beginning July 29th. (Contest details and rules may be found on the website).
In addition, those over 21 years of age may purchase commemorative Raffle Ticket Beer Mug or Wine Glass Packages at $20 each, which includes two Gold Nugget raffle tickets and discounted domestic beers and local wines throughout the day. Deputy Discount Badges for the children at $10 each provide youngsters with one free dessert, soda or baked treat and discounted treats throughout the day. Raffle Ticket Beer Mug and Wine Glass Packages and Deputy Discount Badges may be purchased online and picked up at the Festival Raffle Ticket Tent. If not sold out, limited quantities of Raffle Ticket Packages and Deputy Discount Badges may be available for sale at the Festival Raffle Ticket Tent, but it is recommended they be purchased online in advance, as they are expected to sell out quickly.
Attendees are strongly encouraged to attend in costume… Wild West, Western, Gold Rush, Edwardian, Victorian, Gothic and even Steampunk attire of the era. Costume contests will be held throughout the day. Additionally, the Manzanita Arts Emporium will host the Mark Twain Writer's Round-Up, Friday, October 14 and Sunday, October 16, 2016.
The "Newsmaker of the Day" is heard every weekday morning on AM 1450 and FM 102.7 KVML at 6:45, 7:45 and 8:45 AM.