Over $14,000 Raised For Hospice Of The Sierra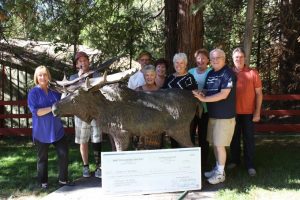 Check Awarded To Hospice At Moose Lodge

View Photos
Arnold, CA — Hospice of the Sierra has received a $14,184 check from the proceeds raised at the Heisinger Memorial Golf Tournament held earlier this month.
The tournament was originally started by Dick Heisinger and after he passed away in 2007 his family continued the event as a memorial tournament and fundraiser for Hospice of the Sierra. Over the past nine years the event has raised over $118,000. Both Dick and his wife Jackie received hospice care.
The June 11 event, also hosted by the Ebbetts Pass Moose Lodge, included a barbeque, 18 holes of golf and a dinner afterwards at the Moose Lodge.  132 golfers played at the Sequoia Woods Country Club in Arnold, and over 200 people came out for the dinner. In addition, there were 82 tee sponsors that helped raise funding.
One of the volunteers at the event, Judy Myers, who is also a former Hospice of the Sierra employee, chimed in, "This is an incredible family and the Moose Lodge is so  supportive of Hospice of the Sierra and our charitable mission of providing care to anyone regardless of their ability to pay."
Of note, this year's winning foursome was Terry Jarnigan, Andy Nelson, Mike Ogburn and Rick McTague.