Heat Advisory Issued In Mother Lode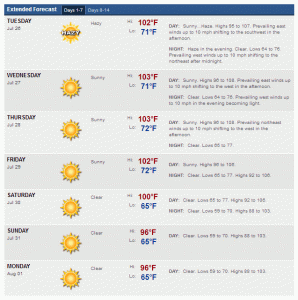 MyMotherLode.com extended forecast - Sonora

View Photos
Sonora, CA — Officials in Tuolumne County are urging residents to take caution over the remainder of the week.
The National Weather Service reports that triple digit temperatures will be the trend now through Saturday. High temperatures will peak in the foothills and Central Valley between 100-110 degrees. By the end of the weekend, temperatures should start dropping back into the nineties.
The Tuolumne County Office of Emergency Services reports that there are several locations residents can go to beat the heat. Public buildings like the Tuolumne County Library are available during usual business hours. The Main Library will be open from 10am-6pm, Tuesday through Saturday. Other library hours can be obtained by calling 209-533-5507. The Tuolumne County Senior Center, also on Greenley Road, is open from Monday through Friday, 8am-4pm.
For assistance with transportation, Tuolumne County Transit can be reached at 209-532-0404.
The warning signs of heat illness can include heavy sweating, cramps, headache, nausea, vomiting or dizziness.