Governor Fills Ag Seat In Mariposa County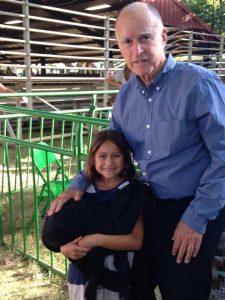 Governor Brown with Katie Morelos and her baby goat at the Mother Lode Fair

View Photos
Mariposa, CA – Governor Jerry Brown tapped a Mariposa native with strong ties to not only the county but also Yosemite National Park.
Brown has appointed 49-year-old Kevin Shelton to the 35a District Agricultural Association, Mariposa County Fair and Homecoming Board of Directors. The Governor's office provided these credentials:
Vice president of operations and marketing at the Yosemite Management Group since 1994
Chairman of the Yosemite Mariposa County Tourism Bureau
Club leader of Mariposa Triangle 4-H
Treasurer of the New Life Christian Fellowship
Board member of Mariposa Future Farmers of America Boosters Club
Mariposa Friends of the Fairgrounds Foundation Board
Mariposa Junior Livestock Auction Committee Board
This position does not require Senate confirmation and there is no compensation. Shelton is a Republican.