Invitation to "Meet The Sheriff"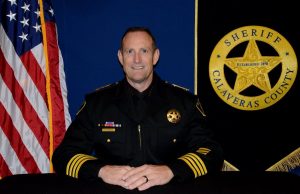 Calaveras County Sheriff Rick DiBasilio (CCSO Photo)

View Photos
San Andreas, CA — Calaveras County residents will get a chance for some Q&A, one-on-one time with the sheriff.
As previously reported in May, Calaveras County Sheriff Rick DiBasilio was officially appointed to the post by the county's Board of Supervisors after the untimely death of his predecessor Gary Kuntz, who died of a heart attack last year. With his philosophy of transparency and an open line of communication, DiBasilio is reaching out to citizens by hosting a series of "Meet the Sheriff" events in July and August.
The sheriff's office provides these dates and times:
 July 23rd 9:00-10:00 AM
Avery, Coops Coffee House, 68 Avery Hotel Road
July 30th 9:00-10:00 AM
Copperopolis, Roaster's Coffee Corner, 240 Town Square Road
August 20th 9:00-10:00 AM
Angels Camp, Starbucks, 27 N. Main Street
August 20, 2016 6:30 PM – 8:30 PM Town Hall Meeting
Arnold, Blue Lake Springs Homeowner's Assoc. Amphitheater, 335 Blue Lake Springs Drive (Joining the sheriff will be District 3 Supervisor Mike Oliveira)
If you cannot make the meetings, another way to get to know Sheriff DiBasilio better is by clicking here where you can listen to a recent Mother Lode Views where he was a guest.