Driver In A High Speed Chase Escapes Capture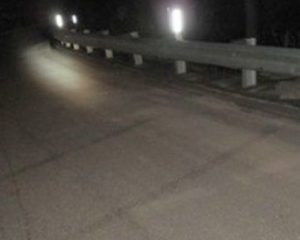 Skid marks on Tuolumne Road N. during high speed chase

View Photos
Twain Harte, CA – Tuolumne County Sheriff's officials report this is the second time the suspect has eluded deputies after a chase.
The latest incident happened along Tuolumne Road North around 11 p.m. Thursday.  A deputy tried to pull over a 2005 dark blue Honda hatchback on Highway 108 near Twain Harte. The driver of the car hit the gas and passed two cars ahead of him. The deputy took off in pursuit. Sheriff's officials report the driver lost control of the vehicle while turning onto Tuolumne Road North and slid sideways into a steel guardrail. The crash did not stall the vehicle, which sped off down the road. After a 2.5 mile chase, the suspects got away.
Sheriff's officials do not know the identity of the suspect but do recognize the Honda. It matches the description of a vehicle deputies chased through Twain Harte on Wednesday. Both pursuits are under investigation. Anyone with information regarding the driver or vehicle is asked to call the sheriff's department at 209-533-5815.