Dive In, Lifeguards On Duty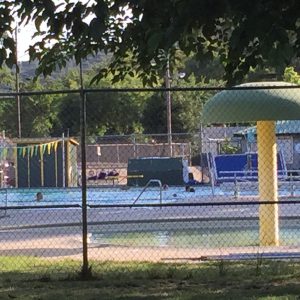 Sonora High's current pool

View Photos
Sonora, CA — Some welcome news as temperatures hit triple digits; Tuolumne County pools have met the required number of lifeguards for a full swim schedule at all area pools.
As reported here, a lack of lifeguards forced the Tuolumne County Recreation Department to open its four pools on a rotating schedule this year. Additionally, the Tuolumne pool did not open up until mid-June due to water clarity problems. Deputy County Administrator Maureen Frank says the last 15 lifeguards, hired Friday, allow the pools to return to their normal schedules for the summer beginning, Monday. Practically cheering, Frank remarked, "We're ecstatic in regards to the number of people that stepped up and filled those positions. The situation is incredible from where we were a month ago."
The total number of staff has reached 55 with most being full-time employees and a handful of part-timers.  Franks indicates that the hires consist of high school and college age individuals. She adds, "The pools are a great asset in regards to teaching kids how to swim and be water safe since we're in a community that has so many rivers, streams, lakes, ponds, pools — that's a very important training that we want to provide for the community."
The department provides the full swim schedules below:
Tuolumne and Twain Harte pools area currently running at full capacity, open Monday through Saturdays from 1 p.m. to 5 p.m. and closed Sunday.
Starting Monday, July 18th, Columbia will have the same schedule as the two other pools and Sonora will be open from Sunday to Friday, 1 p.m. to 5 p.m. and closed on Saturdays.