Sonora Area Couple Busted For Selling Drugs Out Of Their Home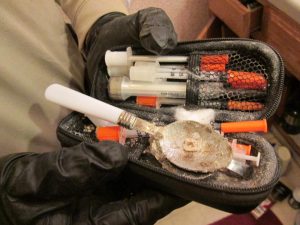 Drugs found by TCSD

View Photos
Sonora, CA – Tuolumne County Sheriff's deputies searched the Sonora area couple's home and found not only narcotics but five children living in the house.
Deputies searched the residence on the 16000 block of Estralita Drive near the Phoenix Lake Cedar Ridge area early Friday morning, after stopping 50-year-old Steven Wright, who was wanted on a warrant, leaving the home. Deputies found methamphetamine on Wright and brought him back to the house. Once inside the home deputies discovered more meth, drug paraphernalia, scales, and evidence of narcotics sales.
Wright confessed to selling the drugs out of the home. He was arrested and booked into the Tuolumne County Jail for possession for sales, transportation of a controlled substance, and child endangerment. His wife, 44-year-old Wendy Wright, was also arrested at the house. She was booked into the jail for possession of a controlled substance and child endangerment.  Both are being held on $25,000 bail each.
The children living in the home ranged in age from thirteen to seventeen years old and were turned over to a family member.