Lightning Strike Fire in Yosemite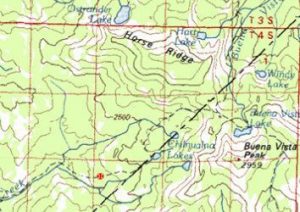 Yosemite Fire near Chilnualna Lakes

View Photos
Chilnualna Lakes, CA — A vegetation fire in a remote area of Yosemite National Park is being monitored by fire officials.
The fire is in Mariposa County near the Madera County border around 8000 feet in elevation. Callers reported seeing some smoke in the Chilnualna Lakes area, between Turner Meadow and Buena Vista Peak, to fire officials on Thursday. Firefighters hiked into the area and confirmed that lightning had struck a tree resulting in a 3.2 acre fire.  The crew reported that the fire was smoldering and moving into brush, timber and duff at a moderate rate of spread.  Firefighters concluded there was no immediate threat to the area, or the Chilnualna Lakes Trail.
The fire crew hiked out of the area and the blaze is being monitored, according to Yosemite fire officials, who note that lightning strikes result in multiple fires each year in the park's wilderness, which ensures a healthier forest where future fires will burn with less intensity.