Jail And Fairgrounds On Supervisors Agenda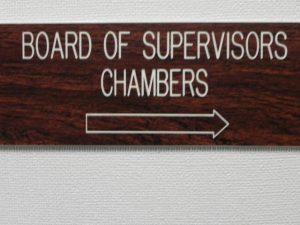 Tuolumne County Board of Supervisors Sign

View Photos
Sonora, CA — The Tuolumne County Supervisors will vote on approving a construction agreement with the state regarding the jail project, and also pick up discussion regarding the Mother Lode Fair Board.
The construction agreement lays out conditions and requirements that the state and county agree to in regards to construction of the future jail. Tuolumne County has secured state grant funding totaling $33-million. The Supervisors will also vote on a resolution that would re-affirm the county's commitment to the project and acknowledge that it will take financial contributions from the General Fund. The 70,000 sq. ft. jail will consist of 230 beds, with room for additional expansion.
Two weeks ago the Supervisors delayed sending a letter to Governor Jerry Brown regarding local desires to have input when it comes to vetting and recruiting candidates for the Mother Lode Fair Board. The delay was due to the Sonora City Council balking at the idea, but City Councilmember Connie Williams later recommended the county board allow additional time. The Supervisors proposed letter, which will go up for review again today, gives two potential proposals. The first is to create an Ad Hoc committee that would make recommendations when it comes to the Governor's Fair Board appointments. The second option is to allow the county to lease,  or take ownership, of the fairgrounds and have the operations administered locally.
Today's meeting starts at 9am in the Supervisors meeting room.