Fireworks Blamed And A Citation Issued For Vegetation Fire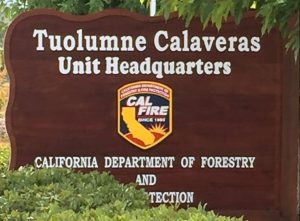 Cal Fire Tuolumne Calaveras Unit HQ sign

View Photos
Copperopolis, CA – Cal Fire reports the call came in Saturday at around 9:47 p.m.  for a grass fire in the 4600 block of King Lane off Tewa Court and Kiva Drive in Copperopolis near Lake Tulloch.  When firefighters arrived on the scene, individuals had already contained the flames at a 20' x 20' spot.  Cal Fire spokesperson Lindy Shoff confirmed to Clarke Broadcasting that the fire was sparked by the use of "Safe and Sane" fireworks and a citation was issued for Health and Safety Code 13001, negligently causing a fire. Cal Fire has not released the name of the individual cited.
Cal Fire Tuolumne – Calaveras Unit wants to remind the public that anyone using dangerous fireworks in either county is subject to a citation and confiscation of the illegal fireworks.  Shoff adds, "If the fireworks result in a fire, the user faces the possibility of arrest and could be held liable for the damages caused by the fire."
Of note, fireworks can be turned into any fire station without penalty, according to Cal Fire.
Resources on the scene were CAL FIRE and the Copperopolis Fire Department.