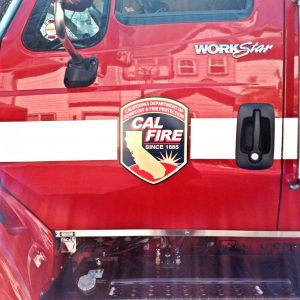 Cal Fire Truck

View Photos
Burson, CA — Cal Fire reports the Campo Fire scorched 33 acres and was 100 percent contained Thursday morning.
As previously reported, the fire broke out in some grass off Campo Seco Road near Chile Camp Road east of Camanche Reservoir midday Monday.  Described as a two-acre fire with the flames spreading at a moderate rate, the fire grew to 20 and then 36 acres, where it held steady over the last couple of days.  Firefighters were able to lay hose around the flames on Monday but Cal Fire declined to call the fire contained at that time noting the possibilities for hotspots.
Seven engines, two crews and a water tender, some from the Tuolumne Calaveras Unit of Cal Fire assisted in battling the blaze.  On the first day, Columbia air resources also helped fight the flames but were not needed after that, according to Cal Fire.  There was no threat to structures during the four days the fire burned. Cal Fire has not yet released any word on what sparked the blaze.