After 75 Years Service Club Takes A Curtain Call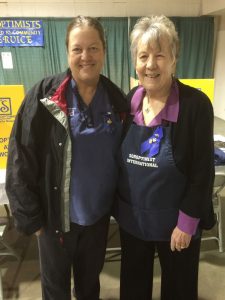 Tomi Sue Henderson and Carol Norwood at the vision screening booth at the Tuolumne County Health Fair 2015

View Photos
Sonora, CA — After serving the Mother Lode for nearly three-quarters of a century in ways too numerous to tally, a local chapter of an international organization is disbanding.
Established in 1946, the Sonora Soroptimist Club, which helped establish spin off chapters in Twain Harte and Calaveras, holds its final event — its annual awards dinner at the Pine Tree Restaurant. Chapter president Tomi Sue Henderson, a Jamestown resident and local veterinarian, shares that at its peak, the Sonora chapter had 65 members — now there are just a dozen.
"The club has been struggling with membership for the past few years, and this year it just became apparent that we weren't getting any new members," Henderson sighs. "I am one of the younger ones and I am not that young anymore – some members…have been in for 30 years, but the age and ability to actually fund raise and do the projects that we want just was not there any more, so we made a very serious decision back in March to disband." Although there was some initial push back from the dwindling membership, she maintains that there was just not enough woman power to continue.
Enabling One Final Dream
Tonight the group will bestow its final Live Your Dream Award, which Soroptimist clubs all over the world sponsor in their local communities. The recipient, who will receive a $1,000 scholarship, is a young mother. Henderson describes her with quiet pride as a woman who, after successfully kicking serious drug issues, had her children returned to her and is currently studying to become a drug counselor. Henderson confides, "Even though our club will be closing we will still offer support for her if she needs someone to call, email, or has questions. So we will continue to support her, even though we won't be a club."
Among the chapter's achievements in recent years, it has sponsored at least $3,000 in annual scholarships for deserving students at Sonora and Cassina high schools as well as at Columbia College. For the past 25 years the Sonora Soroptimists has provided judges and awards for the  junior high spelling bee; also footing the bill for the two top placers to compete at the state event. Henderson's top-of-head recollections of other projects include support for the county victim witness program, sponsorship of the Tuolumne County Health Fair vision screening booth; and fundraising projects that purchased an oven for the Meals on Wheels kitchen and playground equipment for the Mountain Women's Resource Center transitional housing unit.
"There are almost too many things to count over the years," Henderson admits. Their last act will be to refurbish benches that the club helped bring several years ago to Coffill Park, in support of the current Vision Sonora effort.
A Nurtured Affinity For Service
Chapter president for the past several years and a member for 16 of them, Henderson plans to perhaps take a year off before joining the Twain Harte chapter. Soroptimism, if you can call it that, is in her blood. "I like the focus on women and girls and it will probably be something that I come back to," she laughs. She recounts that her mom, a member for decades in their hometown of Taft, would bring her and her sister to meetings as kids. So it was a no-brainer for the siblings, when their mother passed away a few years ago, to create a scholarship in her name, which Henderson says the Taft chapter awards each year to a deserving local high school student.
Founded in Oakland back in 1921 as a group of businesswomen dedicated to supporting women's causes, the Soroptimists organization grew to become international in scope, so members have opportunities to travel and meet in other cities and countries. Henderson, herself, recounts a trip to South Africa. "The first night I met with local Johannesburg member – she and her husband ran an orphanage for HIV-positive kids, which I found very interesting — and they found me — as a vet — interesting, because they had just gotten goats to provide milk for the kids."
Waxing nostalgic, Henderson surmises that changing overall attitudes about time commitments to service organizations and busy kids' schedules contributed to the membership decline. She recalls, "My mother dragged us along to events…we were in maybe fifth and sixth grades when she joined… and did not know enough to complain if we had to go and help with a Soroptimist event…it was the same with the other kids from other moms. Schedules are different these days."
Thankful For The Memories, Support
Fundraising efforts such as the ones her club shouldered take a good bit of planning and work. Henderson jokes, "One old-time member…loved to tell the story of when she was president, they actually…raffled off a case of whiskey — you can't do that now…and so that was one of the biggest grossing raffles that they ever had…if we could still do that we might still be a club."
On a related note, she emphasizes that the club members are extremely grateful to local businesses and residents who supported their programs and services and helped to raise funds over the decades.
Along with service, a strong camaraderie runs deep for the remaining Sonora Soroptimists. Henderson confides that they readily agreed when Pine Tree Restaurant owner, a member of the sisterhood, asked if the group might still come out there to meet once a month because she still wanted to see them all. It sounds not only fitting but a stunningly enduring reflection of the club's strongly supportive community legacy.