Woman Nabbed For Shoplifting And Impersonating A Man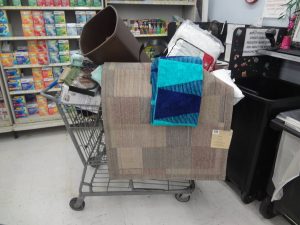 Shopping cart full of items

View Photos
Sonora, CA — A Sonora woman used a clever disguise while attempting to steal from Walmart, according to police.
A officer was called to Wal-Mart for a report of a suspicious subject in a vehicle parked in the parking lot around the midnight hour recently. After questioning the man, who was recognized from previous contact with police, staff alerted the officer to a person who was acting suspicious inside the store with a shopping cart full of products.
Concerned the suspect might do what Sonora Police Chief Mark Stinson called a "push out theft of the items," the officer approached the person, who took off with the officer giving chase and shouting several times for them to stop. It was not until the officer caught up with the suspect, that he realized he was a she.
Chief Mark Stinson states, "The female was wearing a men's camouflage boonie hat with hair extensions attached to the hat, along with a fake mustache and eyebrows to alter her appearance. The female claimed to be someone else. However, the officer recognized her as Nicole Cash, 28 of Sonora. Cash was identified by tattoos and eventually by fingerprints."
Upon searching her, the officer found an open blade knife tucked in her pants, an X-acto knife in her pocket and a stolen GoPhone from the store. A records check revealed that Cash was wanted on three outstanding felony warrants, which included a "no bail" warrant for three counts of identity theft. Additionally, she had six outstanding misdemeanor warrants, ranging from drug possession to theft.
Cash was also booked for new charges of felony possession of a dagger, felony false impersonating another, obstructing an officer and misdemeanor shoplifting. She had no identification on her during the arrest and no money or credit cards to pay for the items loaded up in the cart. As for the disguise, laughing Chief Stinson exclaimed, "She actually looked like a guy. It was pretty surprising."