Final Primary Ballots Counted In Tuolumne County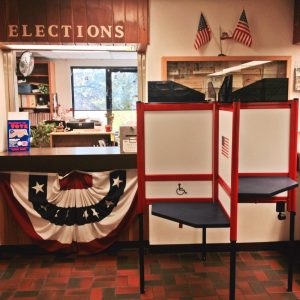 Tuolomne County Election Office

View Photos
Sonora, CA — The Sonora City Council will see a returning incumbent, a former member, and a newcomer.
The Tuolumne County Elections Office reports that the final provisional and vote-by-mail ballots have been tabulated from the June 7th primary. When the polls closed, the Sonora City Council race was considered "too close to call" with third place Matt Hawkins receiving around 40 votes more than fourth place Bill Canning. The final results show that Hawkins extended the gap to 69 votes. The three city council seats will be filled by incumbent top-vote-getter Connie Williams with 766 votes, newcomer Mark Plummer with 623 votes and Hawkins with 495 votes.
In the District One Tuolumne County Supervisors race, incumbent Sherri Brennan finished with 58%, Jerry Fuccillo with 23% and Chuck Kiel with 17%.
In the District Four race, incumbent John Gray received 63% and challenger Don Matter had 36%.
In the District Five race, Incumbent Karl Rodefer received 54% and challenger Sara Shier had 45%.