Gun Safety Rally At State Capitol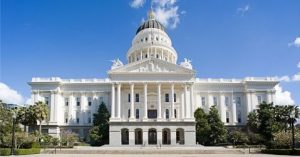 California State Capitol

View Photos
Sacramento, CA — Democrats and gun safety advocates took over the State Capitol steps to push for what they call "common sense gun legislation."
Assembly Speaker Anthony Rendon (D-Paramount) and four other Assemblymembers from the state's largest cities joined more than a hundred gun safety advocates from Moms Demand Action and Every Town for Gun Safety for a rally to back a package of gun safety bills that were passed by the Assembly and advancing to the Senate.
Among the bills is Assembly Bill 1511, which would close a loophole in California's background check law. Currently the loophole allows anyone to borrow a gun for up to 30 days without a background check. Speaker Rendon told the crowd, "I'm confident that as we all keep moving forward in the coming weeks. We will be able to mesh our various efforts to ensure the greatest success. Will we be able to address every issue in one fell swoop? Unfortunately, no but every loophole we close takes a finger off a trigger. There have been too many murders, too many marches, too much mourning. We have to do the right thing."
Neighboring states like Washington and Oregon already have comprehensive background check laws similar to AB 1511, according to Rendon.