67th Annual Tuolumne Lumber Jubilee Begins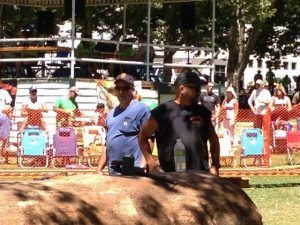 Lumber Jubilee Contestants

View Photos
The 67th annual Tuolumne Lumber Jubilee begins this evening in downtown Tuolumne City at 5 pm.
Lumber Jubilee Committee Board Member, Tara Varela, was Thursday's KVML "Newsmaker of the Day".
The carnival rides will open at 5 pm with a Queen Obstacle Course and Speech contest beginning at 5:30 pm tonight. At 7 PM there will be live music from the local group "Dossi on the Rocks".
The Tuolumne Lumber Jubilee Queen Coronation takes place Friday night starting after 6pm, followed by an evening of live music from "Remedy". Rides open at 3 PM on Friday and a mini Jack-n-Jill contest begins at 5 PM.
Saturday events will begin with a parade at 10 a.m., and the carnival will open at 11 am.
Other events on Saturday include arm wrestling contests, a junior tug of war and a hot dog eating contest (with a fully restored 1985 Honda Shadow 750 motorcycle as the top prize). There will also be events specifically for women and children. Live music from "Uplands Drive" will conclude the evening beginning at 7 PM.
Sunday will also feature several logging events including ax throwing, crosscut sawing contests and conclude with the annual tug of war. According to Varela, this type of tug of war is one of only two left in the state of California.
There will be a variety of booths with crafts, food and beverages served during all four days of the event.
The Tuolumne Lumber Jubillee originally began as a way to celebrate the re-opening of the mill after the Great Depression.
The "Newsmaker of the Day" is heard each weekday morning on AM 1450 KVML at 6:45, 7:45 and 8:45am