Retiring Barbour Recognized For Tireless Efforts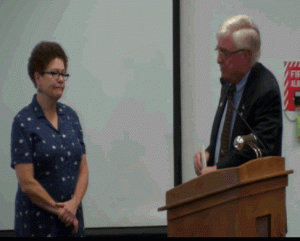 Beetle Barbour Recognized By Supervisors

View Photos
Sonora, CA — The Tuolumne County Supervisors gave a Certificate of Recognition to the retiring Beetle Barbour for her work over the past 17 years with ATCAA.
The Supervisors offered her high praise at this morning's meeting. The Board agreed that Barbour has been a tireless advocate for affordable housing and helping those experiencing homelessness. She thanked the Supervisors for the honor, saying, "I've been so humbled by this whole process. I've never retired before, and the whole time I've just felt so lucky to have been a trusted servant of not only local government, but the state government, and HUD to some extent. It's rare in a lifetime to get into the absolute perfect job where you feel at home and it was meant to be. That's what happened to me."
Barbour is responsible for helping to build two transitional housing developments in the county, she championed the inclusionary housing ordinance, and created the Central Sierra Continuum of Care to coordinate services for people experiencing homelessness. The Supervisors also recognized Barbour for being a valuable participant of the Housing Loan Review Committee and the Board of Supervisors Housing Policy Committee.